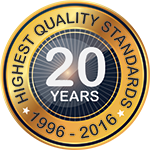 Premium Quality DVD Replication Packaging
DVD's in DVD Cases
Pick your case colour: Black or Clear

Pick your size: Single up to 8 disc multi case.

DVDs are printed full colour for amazing lifelike detail

Beautiful, full colour inserts

Content replicated or duplicated
Customise with:
Double sided inlay for clear case

Inner booklet up to 16 pages
DVD's in Digipaks
Modern product that can hold multiple DVD's

Digipaks are printed in beautiful full colour

Lifelike full colour print on your discs for amazing detail
Customise with:
Up to 8 panels with tons of space for graphics and liner notes

Your choice of High Gloss or Matte UV coating
DVD's in Bulk or Budget Packaging
DVD's in Clam Shells
DVD's in PVC Sleeves
DVD's in Paper Envelopes
DVD's in Bulk Spindle
DVD's manufactured on bulk spindle

Packed in plastic clam shell

Packed in plastic round shell

Pre-printed blank DVD-R's
We've replicated material for:
Lira, L-Tido, HHP, Maduvha, Jesse Clegg, Parlotones, Good Luck, Bouwer Bosch, Dans Dans Lisa, Straatligkinders, EDEN, Daniel Baron, Saarkie, Bottomless Coffee, Heinz Winkler, Sean Else, Bok van Blerk, Brian Temba, Morale, Stefan Ludik, Rian van Rensburg, Assent Tweed, Drakensberg Boys Chior, Sonja Herholdt, PJ Powers and many more!
Video Africa worked with screen personalities such as:
Ruda Landman, Johann Stemmet, Ian Roberts, Freek Robinson, Doreen Morris, Debra Patta, Tertius Meintjies, Liane Heyl, Jana Cilliers, and counting!
Thank you so much for the love and warm reception. All the love in world.
May blessings continue to flow… Thank u for the passion & excellence!
Thank you so much for the brilliant job
Dankie vir stunning werk!
Net altyd profesioneel, EN vriendelik!
Uitstekende werk en 'n heerlike uitkoms!
Thats why I make the circle beeger!
Aan Ronelle & almal by Video Africa, BAIE DANKIE!
Customise your own package
CDs and DVDs are still a great way to convey your message. Printing needs to represent you well and quality is of utmost importance. If that's the level of standard you want, choose Video Africa for your media duplication requirements.
The commercial music and video industry is ever-expanding in SA. We've been handling Africa's replication needs for almost two decades! Take advantage of our international standards and deliver an end product that WOWs your audience.
Create a lasting impression with cleverly designed media packaging